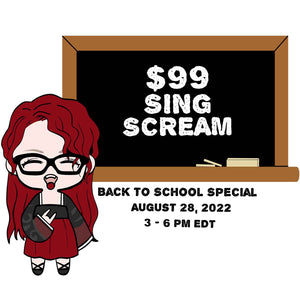 This class is a RECORDING. For live classes please refer to our home page. 
An effortless ability to change the voice from screaming to singing is an essential skill for today's touring active rock singer.   Learning to maintain consistency without rigidity and self-consciousness is the goal of this class.  Most of today's successful recording artists are capable of blending sounds of authentic human emotion with accurate musical pitch.  The coordination required for quality singing voice is surprisingly similar to the pressure/flow balance involved in tour sustainable screaming.  The adding of musical pitch with accuracy without losing emotional authenticity involves an additional skillsets.  This  class will include a voice type specific exercise regimen, tips on preparing for recording and/or live performance, vocal hygiene, rhythm, phrasing and collaborative song writing. Recording included.
Recordings are included if you miss a class. There is no limit as to the amount of time they can be watched.

Broadcast Live from New York

WATCH THE VIDEO to see how the classes work:
This one day online Screaming mini-course consists of a LIVE interactive video-streaming session & GROUP WORKSHOP instructed by Melissa Cross, internationally renowned celebrity voice instructor & creator of the platinum/gold selling vocal instruction DVD series, The Zen of Screaming.
OWN YOUR POWER WITH STAMINA

Get scientific, up-to-date evidenced based information to coordinate fry, false cord, death and hybrid screaming direct from the person who coined the terms.

END HOARSENESS AND FATIGUE




Learn a simple, daily routine used by top metal vocalists to increase endurance and keep the tour on the road.

ADD DIMENSION AND VARIETY




Effortless transitions between extreme and clean vocals adding performance dimension and authenticity.

LEARN FROM THE SOURCE




Learn it from the vocal sensei trusted by famous metal vocalists & record companies – the acknowledged international leading & original extreme vocals expert since 2004.
COURSE INFO
No experience or training required.

Join from anywhere on any device! Attend class on your computer, phone, or tablet (iOS & Android).  Use the browser or a free downloadable app to watch & interact in class.
Calendar reminders & your

 

links to join

 

live

 

classes online are emailed immediately after purchase.** - if the live classes are over, you will receive an email giving you access to the class recording videos within 24 hrs of purchase

Workshop your vocal problems, demonstrate, practice & get feedback live from Melissa! 

(first come first serve in class time - but we endeavor to get to everyone)

Can't make a class? No problem!  This course

 

includes links to the video recordings of your classes.
**

 

Links for the events will be emailed to the purchaser.

 

Course attendee must have access to the email address provided at purchase to receive link 

to join the virtual classroom.

COURSE HIGHLIGHTS 
Get direct access to Melissa Cross in a class-like group format.  It's the next best thing to individual one on one lessons.
Experience instant successful results with the

 

same techniques taught to celebrity clients

 

for over 30 years!
Learn the simple,

 

daily routine used by top metal vocalists.
Understand the mechanics of different kinds of screams

 

enabling nuance, variety and greater sonic dimension.
Effortless

 

transitions between different textures.
Enhance ability to

 

safely perform characters

 

in gaming and animation voice-over work.
Essential information for producers, engineers, voice teachers, speech pathologists & otolaryngologists (OTLs) to

 

assist vocalists in crisis.
WHO'S THIS FOR?
Extreme lead singers
Back-up vocalists.
Legit Singers who want to put more "humanity" in their voice
Rappers & Hip hop artists
Gospel singers
Recording Producers & Engineers
Game Voice Over artists
Voice Actors & Animation Voice Over artists
Theatrical Screaming
Voice instructors, Speech language pathologists & otolaryngologists
ABOUT MELISSA
Melissa Cross has been teaching in New York for 30 years and has performed countless intensive vocal workshop in over 11 countries, including:
USA
Canada
UK
Germany
Czech Republic
Poland
Portugal
Brazil
Columbia
Finland
Sweden
Classically trained in music and theater, her reputation for integrity and effective technique has made her a go-to provider of voice lessons in the music business. She became initially known for helping highly trained singers to sound "more like the radio" to meet the evolving trends of Broadway stage.
In the early nineties, a vocally demanding style of rock music began to trend, the vocal authenticity of which was causing vocal trauma during recording sessions and tours. Melissa became the first person to address the science of extreme phonation in the context of performance.
Melissa then created the very successful The Zen of Screaming and The Zen of Screaming 2 instructional DVD series (Alfred Music 2005, 2006), and she's been featured on HBO, The Wall Street Journal, NPR, Discovery Channel, MSNBC, VH1, MTV and in hundreds of web & print publications.
She is a member of The Voice Foundation, The National Association of Teachers of Singing, Pan American Vocology Association, Voice and Speech Teachers Association and The New York State Singing Teacher's Association and lectures yearly to teachers and performers at universities and symposiums around the world.
This course features key learnings from Melissa's upcoming third offering, ZOS3: See the Sound which provides further techniques and ongoing personalized training in her new online vocal school, slated to launch in 2019.
DON'T MISS THIS AMAZING OPPORTUNITY
to get personally taught by Melissa at such a bargain! One hour lessons with Melissa cost over $375/hr. GROUP online lessons give you the chance to get the same great training from one of the world's most renowned vocal teachers at rates up to 90% off!
Come on in, let's get this party started! 🎤🎵🤟❤